Towns County Civic Association
Our mission is to provide a platform for all residents in Towns County to address issues and problems of mutual interest which affect the management, planning and development of the county and its environs.Towns County Civic Association Board
JUNE 2020 GENERAL MEMBERSHIP MEETING HAS BEEN CANCELLED
The Board of Directors of the Towns County Civic Association (TCCA) regrets to inform members that our June General Membership Meeting has been cancelled. Due to the circumstances caused by the Covid-19 pandemic it is felt it would be difficult to adhere to the current State rules and recommendations of distancing, etc. in a dinner meeting with that many people.
However, certain business activities for the Association have continued. We conducted a vote process by email to amend the Bylaws which has instituted a two year term for all Association Board Officers and will cause all Directors and Officers positions to be elected every two years. A ballot for Officers and Directors was emailed to all members. The vote was completed via the email process.
Two issues require action by vote of the General membership.
The first was the Proposed Amendment to the Bylaws.
See Bylaws tab for updated text.
The second issue was the election of Officers and Directors to your Board of Directors.
The ballot for the election of Officers was sent by email.
Donations for 2020-21 fiscal year
Enotah CASA
Towns County Food Pantry
Mountain True/HRWC
Hamilton Gardens
TC High School Scholarship
Board of Directors Election
President – Michael Courey
Vice President – To be announced
Secretary – Joan Crothers
Treasurer – Larry Dietsch
Director – Anna Denton
Director – Jan Kowalsky
Director – David Tinsley
Director – LaJean Turner
CITY OF HIAWASSEE
Towns County Civic Association board members regularly attend City of Hiawassee meetings. Issues include sidewalks, street crossings, permits, and a mayor's park.
Several recent requested improvements include sidewalk repairs in front of the hospital; a lighted crosswalk sign for the Post Office, and personnel salary justifications.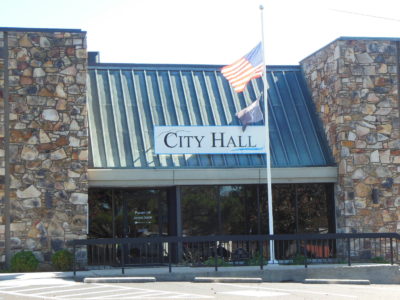 HAMILTON GARDENS
TCCA has been instrumental in rescuing and improving this gem of the county: Hamilton Gardens at Lake Chatuge now a nonprofit organization.
We have organized benefit celebrations to raise funds for the gardens.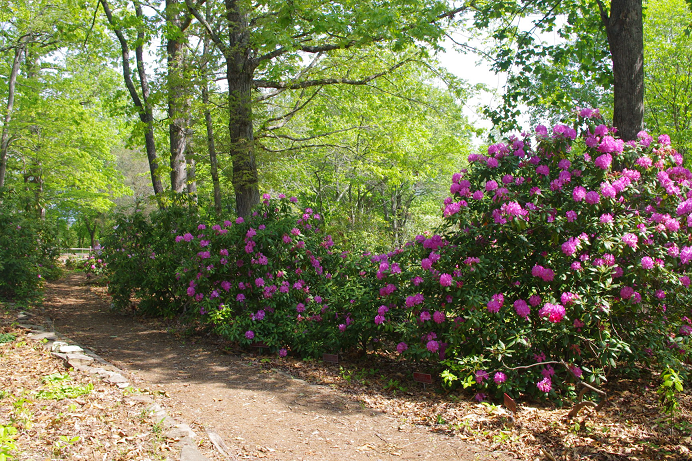 WATER AUTHORITY
TCCA board members attend monthly meetings of the Towns County Water and Sewer Authority, urging improvement of infrastructure and organization for better delivery of water to neighborhoods. Optimum standards would decrease insurance premiums paid by homeowners and allow firefighters to save structures.
TOWNS COUNTY SIGN ORDINANCE
Thoughts concerning the relevance of preserving the County as the environment which many came to live here for. 
There are a significant number of County residents that have relocated here to get away from the highly populated areas that contain many facets of the big city life. The sight of a mountain community free of major traffic, a high crime rate, large shopping malls, traffic lights at each road crossing, noise, and yes, the visual pollution of excessive advertising road and billboard signs. There are numerous citations as to the negative effect of roadway signs and billboards; simply Google search the topic.
TCCA WORKS TO KEEP COUNTY TRASH-FREE
Operation Clean Sweep is a project we support year after year. The transfer station requires that trucks cover their load and could issue a fine up to $1000 for noncompliance.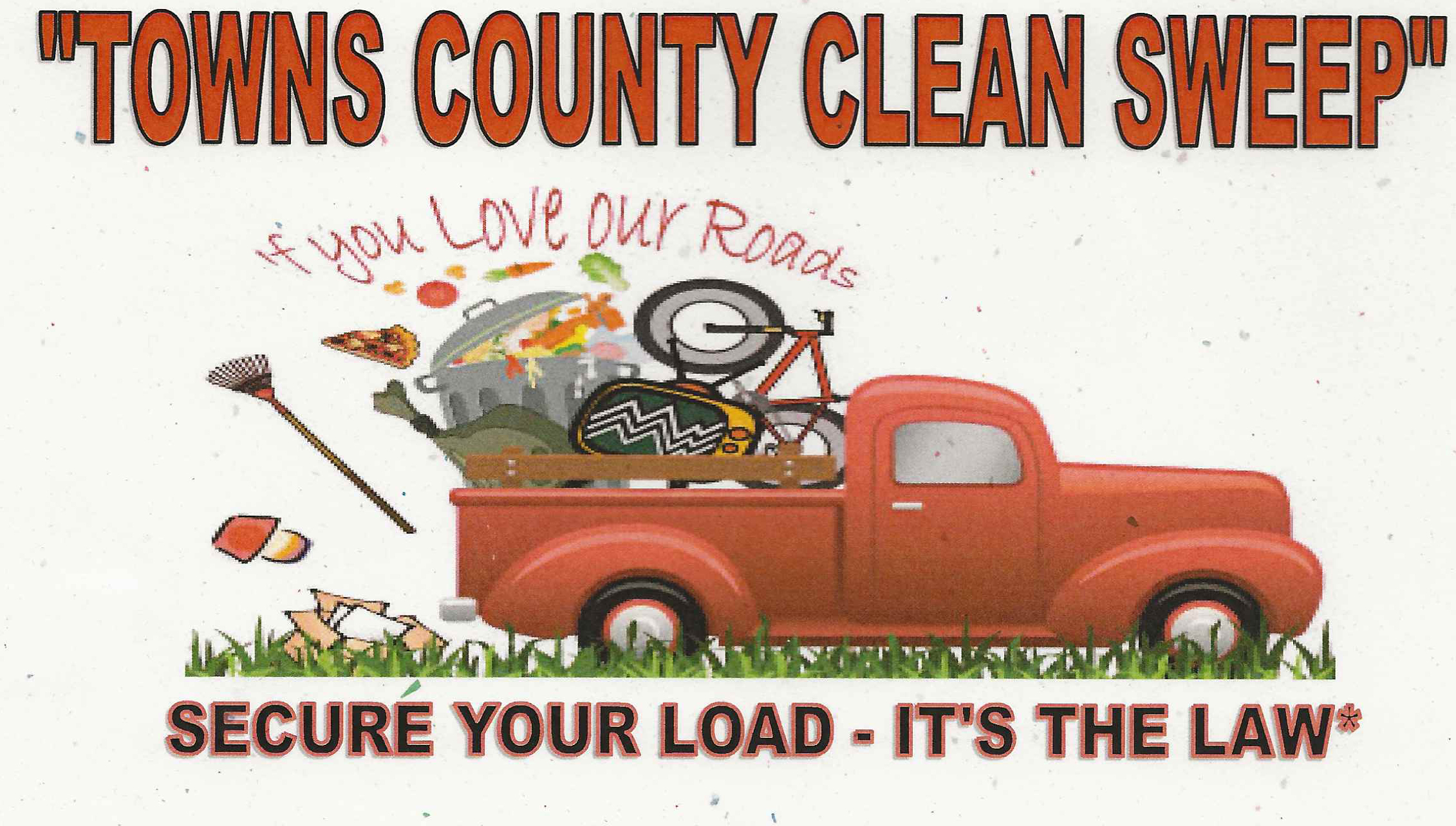 Friday Night Markets. 5-10 pm First Friday of the month thru December.
October 8-16. Fall Festival. Georgia Mountain Fairgrounds
YOU STAY INFORMED WHEN YOU ATTEND COMMUNITY MEETINGS.
Some are listed below. Other community meetings are posted weekly in the TC Herald. Many have been temporarily suspended due to the Covid.
City of Hiawassee Work Sessions – 6 PM Monday, one week prior to City Council meeings at Hiawassee City Hall Council Chamber.
City of Hiawassee Council Meetings – 6 PM, first Tuesday of each month at Hiawassee City Hall Council Chamber.
Young Harris City Council Meetings – 7 PM, first Tuesday  at City Hall
TC Commissioners Meeting -5:30 PM as needed: Third Tuesday at TC Courthouse.
TC Planning Commission Meeting – 7 PM, third Monday as needed at Civic Center
Board of Education – 7 pm, first Monday except April and July, at Civic Center
TC Water and Sewerage Authority Meeting – 6 PM, third Tuesday, 1224 Jack Dayton Circle, Young Harris
TCCA Board Meetings – 3 PM, third Thursday of each month.
CVB Convention Visitors Board Meetings, second Tuesdays
TC Health Dept Meetings – 9:30 quarterly, fourth Thursdays
WE SUPPORT THE COUNTY
TCCA board members attend and report on local meetings: Towns County Commissioner, Cities of Young Harris and Hiawassee, TC Chamber of Commerce, TC Water Authority, and BRMEMC board meetings.
WE HAVE DONATED FUNDS TO NONPROFIT ORGANIZATIONS
Hiwassee River Watershed Coalition, Towns County Food Pantry, TC High School Scholarships, Sheriff's Office, Hamilton Gardens at Lake Chatuge, Enotah CASA.
We Participate
TCCA board members take the lead in many efforts such as Clean Sweep Week, Hamilton Gardens maintenance and benefit galas,  election candidate forums, and county economic improvements.
WE SPREAD THE WORD
Towns County Civic Association keeps the public informed through newspaper articles, letters, our website, and  membership dinner  meetings twice a year.